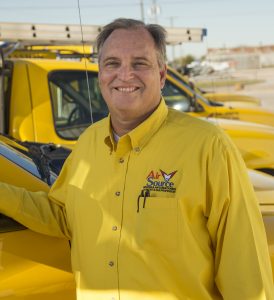 Hi! My name is Rob Felkins, I want to welcome you to the Air Source Heating & Air Conditioning website. If you're here, chances are you're in need of heating or air conditioning services. I have 37-plus years experience in the HVAC industry. In 2000, I founded Air Source Heating & Air to serve Wichita and surrounding cities. My well-trained, professional team of technicians are ready to take care of your HVAC equipment needs, including furnaces, boilers, heaters and heat pumps as well as air conditioners and mini splits for both residential and small commercial.
We have upfront pricing so you pay for the job and not by the hour. We offer free estimates on equipment replacement. I look forward to servicing your HVAC needs. Comfort is Our Profession.
Company History
Air Source Heating & Air Conditioning is a veteran-owned and family-owned business. Founded in 2000, Air Source Heating & Air Conditioning has focused on residential and light commercial heating and cooling service, repair, installation and design.
Our Mission
Our certified, professional technicians are continually trained to keep up with the ever-changing residential and light commercial market to provide you quality service. Air Source Heating & Air Conditioning uses state-of-the-art technology to diagnose and repair existing systems.